DJI Mavic 2 Enterprise – Barking Drone
THE ULTIMATE TOOL FOR NEW ZEALAND FARMERS
The Mavic 2 Enterprise, also known as the 'Barking Drone' has been proven to be an effective alternative in managing livestock in New Zealand farms.
It can provide farmers with visual status of all farm assets.
THE ULTIMATE TOOL FOR NEW ZEALAND FARMERS
The Mavic 2 Enterprise, also known as the 'Barking Drone' has been proven to be an effective alternative in managing livestock in New Zealand farms.
It can provide farmers with visual status of all farm assets.
Kit comes with an extra self-heating battery.
The Barking Drone is similar to the DJI Mavic 2 Zoom, which is popular for its portability and high-quality camera, but it is designed with a smart port on top of the craft that allows the addition of modular accessories, such as a loudspeaker and a spotlight. The loudspeaker can be used to record any audio, including a siren sound or dog barking, to play back at a sound level able to be heard from hundreds of metres away. Stock respond quickly and effectively to the sound.
The Barking Drone also sports a 12-megapixel camera with 2x optical zoom and is capable of capturing 4K footage. Farmers already utilise the camera for a range of tasks from checking stock to examining troughs to assessing hard-to-reach fencelines. The addition of the zoom for closer inspection, the spotlight for low light operations and GPS timestamping for accuracy, makes these operations even easier than before. In cold climates, self-heating batteries ensure the drone will perform, even in sub-zero temperatures.
A range of Modular Accessories
With an extended port that allows the user to connect additional devices onto the drone, helping to perform at its best in a variety of daily and critical missions. The M2E Spotlight for the low light environment, M2E Speaker for air to ground communication and M2E Beacon for night time operations.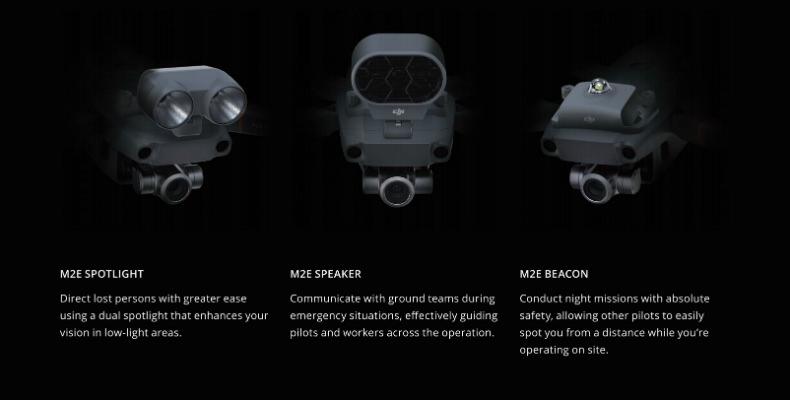 Stock Management
Tracking, inspecting, and monitoring livestock across a large uneven terrain poses challenges, mainly relating to time and efficiency. The Mavic 2 Enterprise is equipped with a 2x optical zoom camera that lets farmers obtain information regarding the condition and position of your livestock. The Mavic 2 Enterprise's omnidirectional obstacle sensing system enables farmers to fly and hover with more stability than ever in a wide range of open and complex environments. It also offers an extended flight time of up to 31 minutes and a maximum speed of 72 kph. With this kind of manoeuvrability, farmers are able to swiftly respond to situations where time is crucial.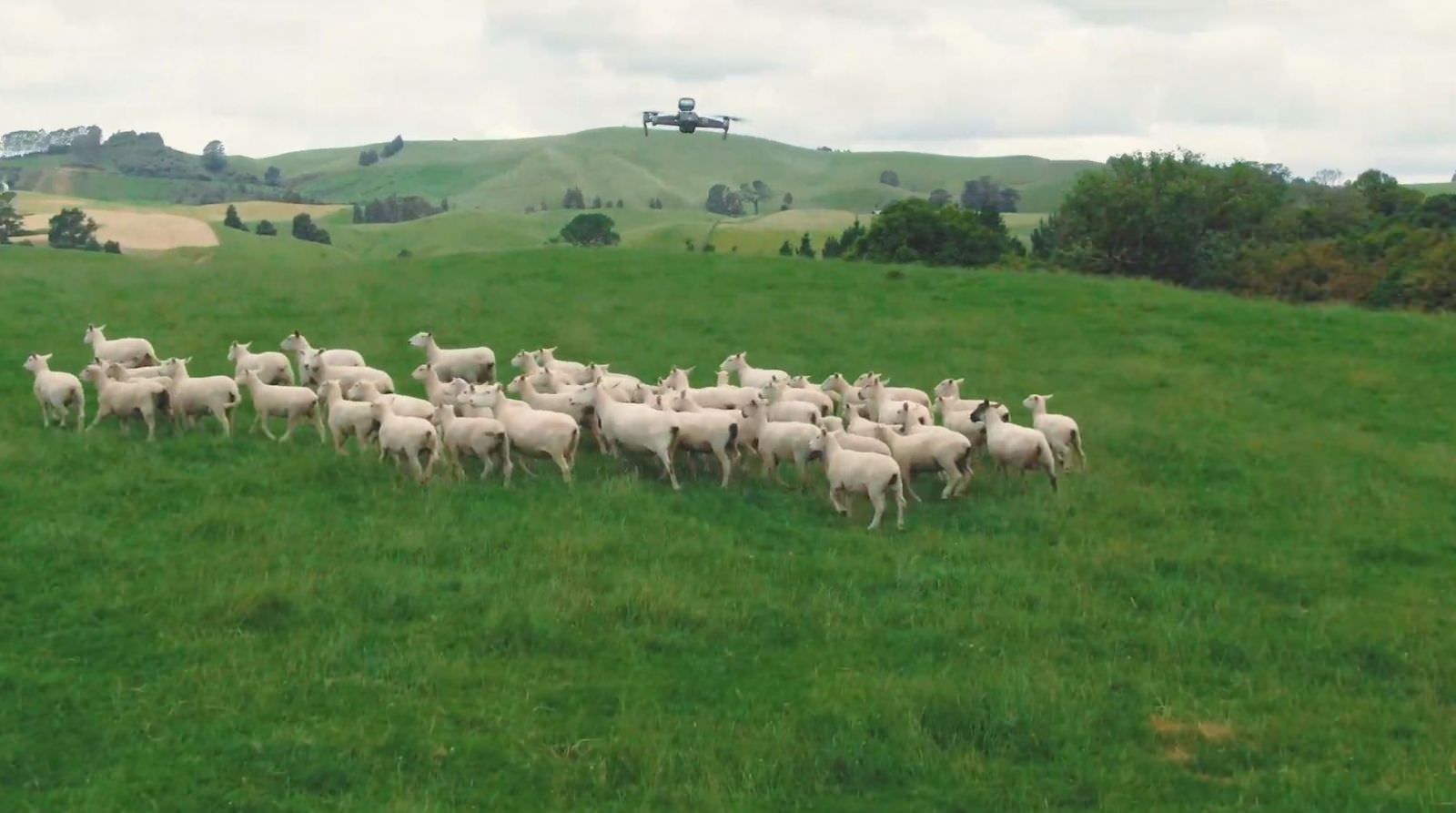 Equipped with the M2E Loud Speaker module, the craft is capable of recording sounds, such as barking, to playback on the speaker. From our testing, stock responds quickly and effectively to the sounds, even in winds. With a high-quality camera, farmers can also record a video to review and improve herding techniques. The zoom camera enables farmers to be able to monitor the health of livestock even more effectively, even in hard-to-reach environments like deep gullies or steep hillsides.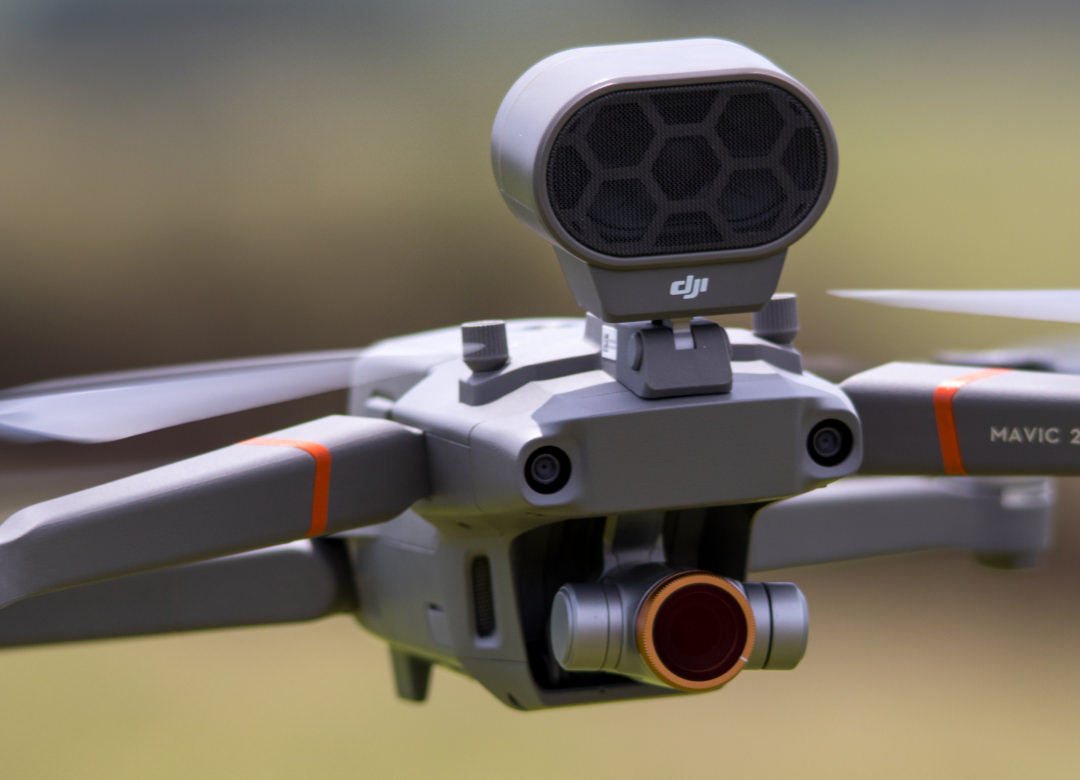 Bird Scaring
In the past, methods of bird mitigation to protect crops on farms have been very labour intensive and costly. Although attempts at making loud noises or firing off guns have been used by farmers for years, paddocks can still lose half a tonne a hectare to birds.
The Mavic 2 Enterprise with its attachable loudspeaker can record a siren to effectively manage and reduce the damage of birds on yields. The speaker is capable of recording high multi-pitch sounds specifically designed to scare birds or bats. By employing the GPS tracking feature, farmers can also set up waypoints to automate their operation. The Mavic 2 Enterprise can cover large areas quickly, mitigating bird numbers over vulnerable crops.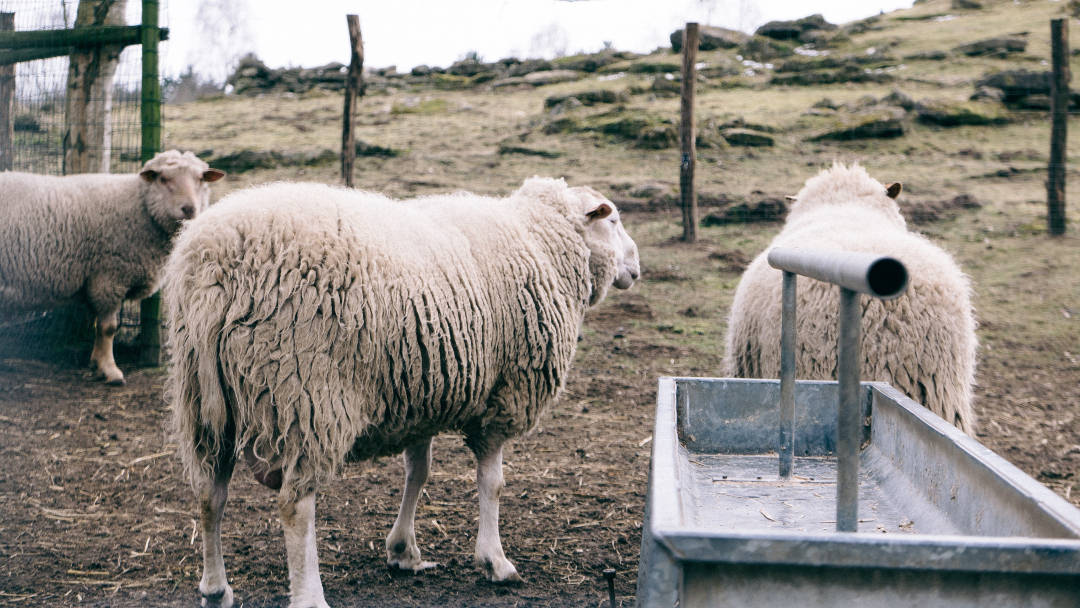 Asset Inspection
A common sight in rural New Zealand is seeing a farmer "walking the fence" with a fence tester to track down the source of a power loss. The most common culprits are vegetation overgrowth, loose wires and broken insulators. With the Mavic 2 Enterprise's powerful 2x zoom camera and its onboard Spotlight, farmers can save many frustrating hours of fence-walking. With the ability of the Mavic 2 Enterprise to set up GPS waypoints and record inspections at 4K resolution video, farmers can record the video and then inspect their fences in the comfort of their own home.
With the same approach, farmers can regularly inspect your water troughs, shed roofs, and hard-to-reach areas with minimal effort.